35mm slides and negatives – 20p per image saved as Jpeg.
120, 126 Medium format negatives 35p per image.
Photographs up to 7 x 6   20p each
VHS-C, VHS, sVHS, Digital-8 and Hi-8   £15 per  90 minutes of Tape.
Super 8 or Standard 8mm  15p per foot plus £2 handling per film. For sound – 30p per foot.
All digital media saved on USB or, for large orders, an external hard drive. DVDs can be supplied on request. USB or DVD at £7 for orders up to £100. USB, DVD or external hard drive included on orders over £100.
Return postage for all orders at cost price with Royal Mail.
Prices will be updated at the beginning of April 2018, all customer quotations made before this date will be held for 2 months.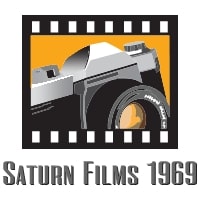 If you would like to drop your project off or just pop in for a chat about it then please contact us on 07411119419.
Now the wordy bit:
At Saturn Films (1969) we offer an extensive digital transfer service and consider ourselves among the top 10 providers in this country for quality of the final image and at the lower end of the price spectrum too. We scan slides, photographs and negatives, we copy VHS, VHS-C, Betamax, Hi-8, Digital 8 video, 8mm and 16mm cine film movie, Vinyl records, reel to reel tape and audio cassettes with transfer to DVD, CD, Blu-ray disc, memory stick or portable hard drive for you to view and listen to on your TV and computer.
We have a simplified charging structure so that you know what the digital processing will cost. The only variable is postage, postage of the digital products is included but the return of the original material is charged for at the insured and tracked postal rate.
Our Standard service is suitable for the vast majority of customers and includes:
Scanning 35mm Slides and Negatives – up to 4000 dpi
APS scanned at up to 3200 dpi
Photos, 6×4, 7×5,10×8 scanned at up to 1200dpi  and A4 at up to 800dpi
Each image with dust and scratch reduction and colour correction. All images are individually reviewed, cropped and colour adjusted, we us digital ICE, as standard, and other high quality software. All images saved as Jpeg to DVD (a DVD copy is included) or to usb.
We can produce prints of your images and these are individually priced bespoke orders. Contact us with the size of print and numbers and we will happily provide a quotation.
If you choose to have your images returned on dvd we include a disc copy so that you have a backup should it be required. We will scan your slides, photos and negatives and invoice you for the payment on completion of the project.
We transfer VHS, VHS-C, SVHS, betamax, Hi-8 and digital-8 video formats. They are saved to DVD disc plus a backup DVD disc or to appropriate digital media. For larger orders of over 20 video tapes we include an external hard drive in the package (though you are welcome to provide one for smaller orders if you wish or I can purchase one for you).
For additional copies of your project DVD add £5 per disc (remember 1 backup DVD is already included).
For slide show discs with or without copyright free music add £10.00 per disc. For a slide show with the music of your choice send a CD containing the music together with your order and £10.00 for each slide show disc ordered.
Postage:
Return postage for all items is included in the price. Postage will be for your photographic material in secure packaging and by a tracked and insured service. Obviously the package size and weight is a factor but wherever practicable we deliver by guaranteed next day delivery, if not by first class recorded or Royal Mail Parcelforce.
If you wish to collect your materials thats absolutly fine (and we love to meet clients and chat over a coffee).
Send your slides, negatives or photos by recorded delivery to:
Saturn Films 1969, 8 Heol-y-Felin, Cwmgwrach, Glynneath. SA11 5TB.
We will scan your slides and invoice you for the payment on completion of the project.
Special orders:
This service is provided to individuals, businesses or clubs and societies following a discussion of your requirements.
We can scan at up to 6400 dpi providing 24, 48 and 64 bit TIFF, RAW, BMP etc. images of up to 350mb. We have successfully provided images for TV and for billboards over the years. Please contact us if you wish to use this service. Please contact us with your requirements for us to provide a competitive quotation.
For video projects we can perform video upscaling and each project will be considered individually.
Turnaround Time:
We can give you an estimated time when you ask for a price quotation letting us know your number of photos, slides etc. We  will be able to give a more accurate estimate when we receive your order. Factors which affect turnaround time are:
The amount of editing required for the project – some slides suffer more than others with colour deterioration and with mould contamination.
The urgency of the order. We can provide lower prices for very large orders when the timescale is relaxed – If we have to drop everything to do your order we may have to add a little to the quotation.
Professional level scanning editing large TIFF files. These files take more time to load and edit and consequently increase production charges and the time take for completion.
We pride ourselves on our friendly, professional service providing high quality digital transfer and editing at competitive prices. We are always prepared to discuss your slide scanning, photo, cine, video or audio project with you either on-line or by phone.
We respect our serious competitors and will price match where the quality of the service and final product is comparable. There are a lot of people out there providing a digitising service but few I would recommend!
Trial Image Scan Service
If you would like to try our service please send us 3 images and a self addressed return envelope. We will scan and e-mail the pictures to you returning your photos in the envelope you provide.
Saturn Films 1969
Saturn-Films (1969) 8 Heol-y-Felin, Cwmgwrach, Glynneath. SA11 5TB
tel. 074 1111 9419
Images are copyright of the image owners.